PLAN YOUR HOLIDAY EVENTS NOW
Whether it's an intimate event for 25 or a gathering of 1,000 guests, select your group's perfect venue. Choose an elegant ballroom or smaller event space with views of the mountains and golf, or a patio or private restaurant setting.
For more info call: 626-854-2315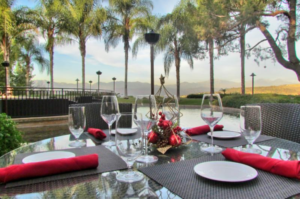 PERFECT FOR EMPLOYEE, CLIENT AND VENDOR LUNCHES AND DINNERS
Reward those who mean so much to your organization all year… they are looking forward to it!
HOLIDAY CATERING MENUS
Taste the holidays with customized lunch and dinner options for the season. Our culinary team presents a full array of spectacular dishes to enhance the holiday spirit.